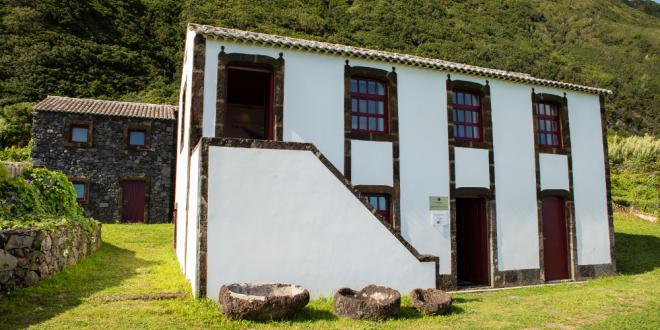 The Interpretation Centre of Fajã da Caldeira de Santo Cristo (CIFCSC) was created with the aim of presenting the geological, biological and human history of the São Jorge's Fajãs, especially the Fajã da Caldeira de Santo Cristo and Fajã dos Cubres, to the visitors.
The building results from the reconstruction of an old house and correspondent support house, which still has the original and traditional façade.
It has been highlighted by several websites and architecture magazines, being the cover of the Korean magazine "C3". It integrated the project "Close, Closer" of the Iberian Architectonic Heritage Show - MIPA, within the scope of the 2013 Lisbon's Architecture Triennial.
In the reception hall, you may enjoy a resting area and visit the space when an old oven is recreated, decorated with replicas of support utensils.
In the exhibition room, the visitor may research technical information at a multimedia kiosk and travel through time, from the formation of the fajãs until today. They may also watch several documentaries regarding the Fajã da Caldeira de Santo Cristo and others, of an ethnographic nature.
Address
Ribeira Seca
Fajã da Caldeira de Santo Cristo